From the mailbag:
An energy-models.com trainee asked a great question: Can I determine the individual energy consumption of an individual room or zone?
There are multiple options, from creating custom hourly reports and load tracking, but that gets complicated in a hurry. The answer is not perfect but the main thing to do would be create a submeter.
If a user wants to truly isolate the energy of an individual room, it depends if the room has a room level fan and room level cooling. Otherwise, you can't necessarily determine the exact impact of a room. You could potentially estimate that if a room at 600 cfm of a 6000 cfm fan, that it would be 10% of the fan energy but really only works in the case of a constant volume fan. The cooling and heating would be tricky because it depends on values specific to the zone, including geometry and other schedules. In the case of shared equipment, the KW/ton changes depending on the block load. A secondary meter is your best bet.
To create a 2nd meter:
Go to the Utilities and Economics module on the far right (assuming detailed mode).
Find the first meter, usually called, "EM1"
Right click to create a new meter
It will use the default name, "Electric Meter 2" but you can and should name it an appropriate unique name that will act as a descriptor, such as the zone name if you are going to create many of these.
Select "Copy Existing Component" in the dropdown. eQUEST should automatically pick EM1 (because it is currently the only choice!) and click okay.
There are many options that will pop up for you to change, but once you create EM2, the defaults will do the job of creating a 2nd meter that is ready to use.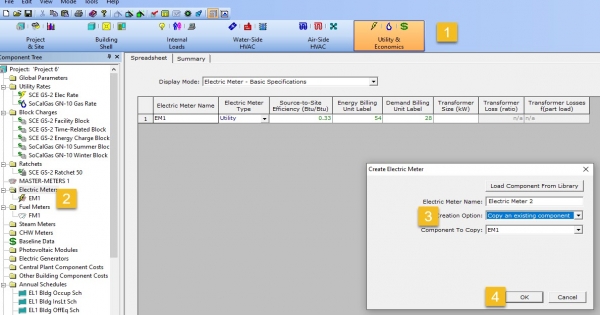 Then go to the Air-Side HVAC module and open the zone in question.
Select the "meters" tab.
You will need to assign the new meter for the entire zone or even object by object.
Repeat for gas meters if you are monitoring gas.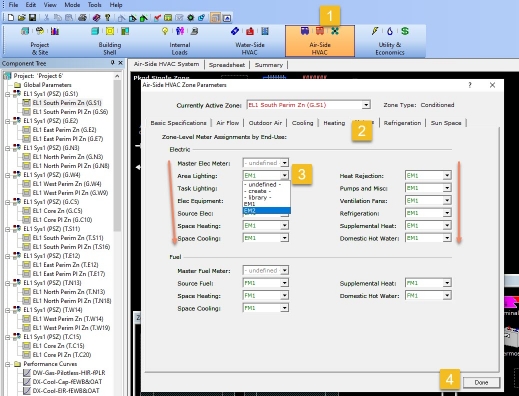 You can leave the master meter undefined in many cases. By default, EM1 is the master meter and most utility rates will charge for the total electric, but there are many ways to set this up. I haven't seen projects that were more specific than having a "building meter" and then having a sub-meter for each building, but eQUEST gives you a lot of freedom, even to set up different billing - which does happen, though IMO, you'd be looking at ESCO models before you really get into that.
That should do it. If anyone reading wants to learn more in eQUEST - get access to our full online portfolio of eQUEST courses here.