We have seen a number incoming search engine links looking for "Energy-models.com coupon code"
If you want to try one of our courses, and you want a discount? How does 90% off sound?
For a limited time only, we are offering "Pay with userpoints", where you can earn points and use those points to pay for our products.
The best way to earn points is by referring others with your referral link.
Get your referral link on your user page
Share your link by email, Facebook, Twitter, Linkedin, telegraph, smoke signals
Earn 200 points = $20.00 off for each user who creates a FREE account.
Use your points at checkout to get up to 90% off!
FAQ:
How do I get my referral link?
Go to your
user page
and find it, it will look like this: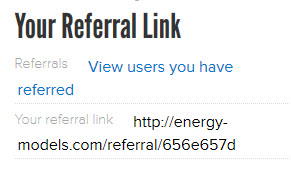 How do I see my total userpoints?
On your
user page
, you can see your points and where they came from!